We've Pledged to Reduce our Carbon Footprint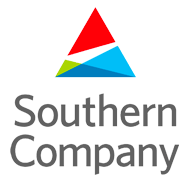 Southern Company has been building the future of energy for more than 100 years. We understand the responsibility of developing energy solutions to benefit our customers, neighbors and communities.
Southern Company has established a goal of Net Zero carbon emissions operations by 2050 on an enterprise-wide basis. On the path to 2050, the company has set a goal of 50% reductions from 2007 levels in CO 2 emissions by 2030. Over the past decade, our efforts to lower carbon emissions has resulted in a 44% reduction in greenhouse gas emissions.
To meet our goal, we are investing in more renewable energy, modernizing the grid, using clean natural gas, constructing new nuclear generating units and continuing industry-leading research and development.
We are creating clean and resilient energy solutions to sustain future generations. Here is a timeline of our investment in renewable energy and low-carbon solutions.
1910
Southern Company was founded on renewable energy. Between 1910 and 1914, the company built its first hydroelectric power plants: Lay Dam in Alabama and Tallulah Falls Dam in Georgia. Today, Southern Company has 33 hydro plants in its fleet. Hydropower remains one of the cleanest, safest and most affordable sources of energy available.
1930
In 1930, 75-year-old Atlanta Gas Light (a Southern Company Gas utility) became the distributor for clean natural gas for its 40,000 customers in Georgia when the availability of pipeline natural gas arrived and began to end the practice of manufacturing gas from coal. Even at that time, members of the Atlanta Smoke Commission saw great promise in natural gas reducing coal use.
1953
In 1953, the United States Atomic Energy Commission approved Southern Company's participation in nuclear research.
1969
In 1969, Southern Company's in-house research and development (R&D) organization was founded, originally to focus on environmental challenges. Fifty years later, our R&D efforts have expanded to include developing low-carbon generation technologies, advancing distributed energy solutions, modernizing the grid, promoting a culture of sustainability and developing new business models.
1973
In 1973, Southern Company's first advanced-coal research project was initiated in Wilsonville, Alabama.
1975
In 1975, the system's first nuclear unit at Plant Hatch in Baxley, Georgia, began commercial operation. Plant Farley, near Dothan, Alabama, went into operation in 1977 and Plant Vogtle, near Waynesboro, Georgia, went into operation in 1987. Southern Company subsidiary Southern Nuclear operates a total of six nuclear units for Alabama Power and Georgia Power. Operating 24/7, nuclear energy facilities produce more than half of all U.S. carbon-free energy.
1982
In 1982, Georgia Power launched the Shenandoah solar project, the world's largest commercial solar energy installation, with the U.S. Department of Energy (DOE). This was a significant milestone in Southern Company's emerging renewable research and development program.
1992
In 1992, Atlanta Gas Light was part of the Georgia team that immediately applied to become a "clean city" in response to Congress passing the Energy Policy Act (EPAct) and establishing the DOE Office of Vehicle Technology. As a result, Atlanta became the first U.S. Clean Cities coalition officially designated by the DOE. Clean Cities organizations work in communities to implement alternative and renewable fuels and fuel-saving technologies and practices, activities that reduce emissions impacting air quality and health. The Clean Cities program now has almost 100 coalitions across the country.
1996
In 1996, just in time for the Summer Olympic Games, Atlanta Gas Light built the compressed natural gas (CNG) fueling station for MARTA, the city's subway and bus system. AGL recruited more than 600 natural gas vehicles from around the country to join the 118 new MARTA CNG buses in transporting 2 million fans and athletes to their venues. MARTA remains one of the largest and longest-running CNG bus programs in the country.
2009
In 2009, Southern Company began managing and operating the DOE's National Carbon Capture Center (NCCC) in Wilsonville, Alabama. The center was created to advance technology development to reduce greenhouse gas emissions from fossil-based power generation.
2009
In 2009, to meet rising demand for electricity, Georgia Power and Southern Nuclear began building two nuclear energy facilities at Plant Vogtle, the first new nuclear generation in the U.S. in more than 30 years. Once complete, Vogtle units 1-4 will produce enough clean, safe, reliable, affordable electricity to power 1 million Georgia homes and businesses. The carbon-free energy that will be produced is equivalent to removing more than 1 million cars from the road each year. Furthermore, 10 million metric tons of carbon dioxide (CO2) emissions will be prevented annually.
2010
In 2010, Southern Company subsidiary Southern Power teamed up with Turner Renewable Energy to form a strategic alliance pursuing the development of renewable energy projects in the U.S. The partnership is focused on developing and investing in large-scale solar projects in the Southwest.
2012
In 2012, Alabama Power secured wind power purchase agreements with Buffalo Dunes Wind Project, LLC and Chisholm View Wind Project. The two contracts were among the largest agreements for the purchase of energy produced from wind farms among Southeast energy companies. The combined purchase is 404 megawatts (MW) of electricity.
2014
In 2014, Southern Company and Alabama Power partnered with Southern Research to study solar photovoltaic (PV) systems. The Southeastern Solar Research Center was established to accelerate PV research and provide unique data that may aid energy providers in the optimal design of solar PV systems.
2015
In 2015, Southern Company Gas became a founding member of the EPA Natural Gas STAR Methane Challenge Program, which publicly recognized U.S. companies in the energy value chain that make specific and transparent commitments to reduce methane emissions.
2015
In 2015, Southern Company founded Energy Impact Partners (EIP), the world's largest venture capital fund of its kind. Focused on transforming the energy industry, EIP invests in early-stage companies that strive to create and improve the future of energy. The fund focuses heavily on clean energy technologies like electric vehicles, distributed energy resource management systems (DERMS) and storage.
2015
In 2015, Southern Linc began construction of CriticalLinc®, its 4G Advanced LTE network, while still operating its iDEN network. The mission critical 4G LTE network provides a highly reliable and secure resource that enables our electric subsidiaries to more effectively manage the generation, transmission and distribution of electricity. Also, Southern Linc has deployed hydrogen fuel cells as backup power at new LTE sites to eliminate the need for gas-powered generators. A hydrogen fuel cell can provide power to a cell site for up to a week before replenishment is needed and the only emission is H2O.
2015
Also in 2015, Mississippi Power placed two scrubber units at Plant Daniel into commercial operation. The Flue Gas Desulfurization System, or scrubber, reduces sulfur dioxide, mercury and other emissions during the electric generation process and allows Mississippi Power to continue using coal as a fuel source. With the installation of the scrubber and related controls equipment, emissions of sulfur dioxide (SO2) will be reduced by more than 90% and mercury will be reduced by approximately 90%.
2016
In 2016, Southern Company acquired PowerSecure, a leading distributed infrastructure company based in Durham, North Carolina. PowerSecure develops low-carbon solutions like fuel cells, battery storage and microgrids that are designed to provide commercial, industrial and institutional customers with resilient, efficient and clean energy.
2016
In July, Southern Company acquired Atlanta Gas Light (AGL) Resources, now known as Southern Company Gas, making Southern Company the second-largest energy company in the U.S. in terms of customer base. This acquisition helped Southern Company transition its energy mix away from coal to natural gas, which emits 50-60% less carbon dioxide than coal. Today, 50% of our diverse energy mix is comprised of natural gas, a foundational fuel that is helping us transition to a low-carbon future faster due to it being cleaner and more affordable.
2016
Later that year, Southern Company was awarded up to $40 million from the DOE to expedite the development of the molten chloride fast reactor (MCFR). The development is a collaboration between Southern Company, TerraPower, Oak Ridge National Laboratory, the Electric Power Research Institute and Vanderbilt University. The MCFR will be optimized to produce up to 1,100 MW of electricity while reducing carbon emissions.
2017
For many years, Southern Company has been working with industry leaders and manufacturers to drive electric transportation growth. In 2017, Southern Company announced the formation of the Alliance for Transportation Electrification (ATE). It's a cross-section of industry members made up of energy companies, automakers and electric vehicle supply equipment companies to engineering firms and environmental stakeholders that work to promote and accelerate the growth of electric transportation infrastructure across the U.S.
2017
Also in 2017, Southern Company announced its Smart Neighborhood® initiatives in Alabama and Georgia. These neighborhoods provide customers with state-of-the-art home construction, distributed energy resources and energy efficient smart home appliances and technologies. Customers enjoy improved reliability; increased use of solar and battery energy storage and lower costs Southern Company is partnering with the Electric Power Research Institute and the DOE mainly through the Oak Ridge National Laboratory to research what technologies will be commonplace in the average home in 2040.
2017
In 2017, according to data from energy researcher Wood Mackenzie, PowerSecure is named the largest commercial microgrid developer to date in the U.S. with more than 85% of the market share.
2017
In 2017, Southern Company Gas completed the largest Utility Energy Services Contract (UESC) for a multi-site renewable project for a federal agency in Georgia. The project consists of three distinct solar arrays and is expected to generate 650,000 kilowatt-hours (kWh) per year.
2017
Two new stadiums in Atlanta – Mercedes-Benz Stadium and SunTrust Park – were completed in 2017 using energy-efficient technologies with the help of Georgia Power. With more than 4,000 solar panels installed onsite, Mercedes-Benz Stadium is the only LEED Platinum-certified professional sports stadium in the U.S. And Truist Park, LEED Silver-certified, is the only facility in Major League Baseball to use all LED lighting. Both stadiums are equipped with electric vehicle charging stations.
2017
Southern Company is the only energy company in the nation to partner with all four branches of the U.S. military to develop renewable energy projects for 30 military-affiliated agencies. The Pentagon is seeking to use more renewables because it makes economic sense and will enhance energy resiliency. Through March 2017, Southern Company and its subsidiaries have military solar projects online or under contract totaling 365 MW.
2017
Also in 2017, Mississippi Power partnered in three utility-scale solar projects and have a fourth under construction. One of the solar projects is a partnership with the Naval Construction Battalion Center (Seabee Base) in Gulfport, Mississippi. Solar generation is a cost-effective power source that stabilizes prices for customers and benefits the environment.
2017
In 2017, Southern Company launched its SO Smart Home exhibit that is activated at different consumer-facing events across the country. Southern Company's activation offers a peek into how people will live with energy in the future. Consumers can interact with the latest energy-efficient, connected technologies and products for their home and business. The products are designed for consumers to have more control of their energy usage and the ability to use energy more wisely.
2018
In 2018, Southern Company Gas announced during a 20-year timeframe, from 1998 to 2018, it has successfully reduced its annual methane emissions by 50%. These efforts included replacing 5,300 miles of bare steel and cast-iron pipe, and as a result has mitigated more than 3.3 million metric tons of carbon dioxide equivalent (CO2e) from the atmosphere. The methane reductions are the greenhouse gas emissions equivalent to removing more than 700,000 cars from the roadway for a year.
2018
Also, in 2018, Southern Company Gas reduced methane emissions to 0.135%, which is less than the gas distribution sector goal of 0.44% by 2025. In 2014, Southern Company Gas became a founding member in Our Nation's Energy Future Program (ONE Future), a coalition of leading companies with operations in every part of the natural gas value chain. ONE Future aims to achieve a voluntary goal of reducing value chain methane emissions to 1% or less by 2025.
2018
In 2018, Southern Company officially announced its goal to develop a low-carbon future. Since 2007, Southern Company has reduced the system's total annual greenhouse gas emissions to 102 million metric tons of CO2e, representing a decrease of approximately 35% – or 54 million metric tons. Southern Company has achieved this while maintaining the reliability and affordability for which its system is known.
2019
In 2019, Southern Power started construction on Reading Wind Facility in Kansas. It's Southern Company's first carbon offset project with Royal Caribbean. Between 2015 and 2019, Southern Power has invested in ownership of 3,190 MW of carbon-free renewable projects across eight states.
2019
Also in 2019, Southern Company joined with industry researchers to launch the Energy Storage Research Center, a unique research and development (R&D) facility focused on the development and deployment of next-generation energy storage technologies. The center is located on the engineering campus of Southern Research in Birmingham, Alabama. It serves as a resource for the industry to test and develop energy storage technologies needed to better integrate renewable energy into the power grid, as well as improve reliability and resiliency, while creating more value for customers.
2019
In 2019, Southern Company Gas subsidiary Virginia Natural Gas (VNG) announced that it aims to be the first natural gas utility in America to provide its customers with natural gas that is 100% sourced, transported and distributed by companies that have pledged to reduce greenhouse gas emissions to less than 1% across the natural gas value chain. Beginning Nov. 1 2019, VNG began purchasing one-fifth of its customers' annual natural gas supply from select wells operated by Southwestern Energy (SWN). SWN is also a founding member of ONE Future.
2019
Southern Company has significantly transformed its energy generation mix and is focused on increasing the use of renewables and clean natural gas. Since 2010, Southern Company has invested $20 billion in developing low-carbon and carbon-free energy resources.
2019
In 2019, Georgia Power, filed its Integrated Resource Plan (IRP) with the Georgia Public Service Commission. The IRP is a 20-year plan that outlines how the company will continue to deliver clean, safe, reliable and affordable energy to its 2.6 million customers. Under the approved IRP, Georgia Power will own and operate 80 MW of battery energy storage, increase renewable energy generation by 72% by 2024, retire five coal-fired units and plan to meet increased energy efficiency targets.
2019
As of 2019, Alabama Power has reduced its coal-fired generating units to seven, down from the 23 units it operated in 2015. When the company closed Plant Gorgas in early 2019, it retired more than 1,000 MW of coal generation.
2019
In 2019, Southern Linc shut down its iDEN network, which significantly reduced the system's power consumption. The deployment of Southern Linc's new advanced network, CriticalLinc®, has helped place Southern Company at the forefront of deploying smart grid technologies that benefit customers and have a reduced environmental impact.
2019
Southern Power announced the acquisition of four utility-scale energy storage projects through its strategic partnership with esVolta that total more than 86 MW and 345 MW hours (MWh).
2019
In 2019, according to data from energy researcher Wood Mackenzie, Southern Company is the second-largest owner of solar capacity outside of China. Southern Company currently owns 2.6 GW of solar capacity, both through its regulated and unregulated subsidiaries.
2019
In 2019, Southern Company Gas marketer Georgia Natural Gas (GNG) rolled out a new sustainability program called Greener Life. It's an optional service for customers who are striving for a carbon-neutral lifestyle. Each quarter, GNG will retire enough carbon offsets on behalf of Greener Life participants to completely offset the greenhouse gases released by their natural gas use the prior quarter. For the average GNG customer, offsetting greenhouse gas emissions with Greener Life will be equivalent to driving nearly 10,000 miles less each year, according to the Environmental Protection Agency's Greenhouse Gas Equivalencies Calculator. If GNG's nearly 500,000 customers all enroll in Greener Life, it would be equal to removing approximately 355,000 cars from the road per year.
2020
In May 2020, Southern Company announced a long-term greenhouse gas (GHG) emissions reduction goal of net-zero by 2050. To achieve this, the company will continue to reduce GHG emissions and continue our long-term commitment to energy efficiency but also incorporate negative carbon solutions, including technology-based approaches such as direct air capture of carbon as well as natural methods like afforestation. The system's carbon emissions decreased by 44% through 2019, and we now expect to achieve a 50% reduction well in advance of 2030 and possibly as early as 2025.
2021
In 2021, Georgia Power's Vogtle unit 3 (see 2012 and 2019) is scheduled to be completed.
2022
In 2022, Vogtle unit 4 is scheduled to be completed. Both units will be capable of producing enough energy to power 500,000 Georgia homes and businesses, meeting rising demand for electricity with the population increase.
2023
By 2023, Southern Company expects to add an additional 3,000 MW of renewable generating capacity.